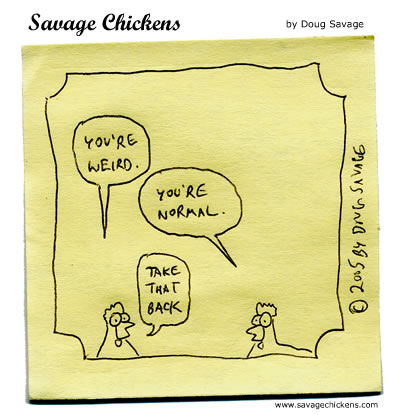 One of my pet peeves, of which I have many, are people who use the terms 'natural' and 'normal' interchangeably.
Homosexuality 'it's not natural' they say 'it's not normal'.
No sir.
It's natural because it occurs in nature. But it is not normal as in, it is not of the norm – as in it is not the statistically prevalent, culturally prescribed, socially expected and publicly encouraged form of conduct.
So let's get our terms straight here: 'natural' has everything to do with Mother Nature. 'Normal' has everything to do your own mother, her expectations and a whole number of social prescriptions on how 'things should be'.
Now if you ask me, societies change, opinions evolve and what is considered normal is far from constant, varying from time to time, from place to place and from one person to the next. So although 'natural' is an altogether safer bet long term, 'normal' is what gets you invited to parties and leaves your aunties and nosy neighbours feeling safe and all warm inside. You don't need me to tell you people generally prefer 'normal' to 'natural'. Societies have historically victimised, marginalized, criminalized, ostracised and killed witches, prophets, adulterers, abortionists, unmarried lovers, homosexuals, members of different religions, parties, factions or football clubs.
You catch my drift.
'Normal' can be brutal and scary.
And here we are, in the year of our Lord 2009, in an era of openness, acceptance, moderation. In an era where your creed, colour, sexual preference or taste in neckties will not lead to a marginal life of victimisation and uncertainty. Or so they tell us.
Here we are thinking that, in our open-minded Western societies, 'normal' is a multi-hued, multi-faceted thing, as close to 'natural' as it has ever been in human history.
And here I am reading with incredulity that a number of psychiatrists and therapists are still offering their services to gay customers: 'helping them become heterosexual'.
To be honest, I first read the item a couple of weeks ago and dismissed it as an April fool's day folly. A bad one but still a folly.
But no. It's still on the wires. Evidently not a joke. Patently not funny.
Although such treatments are at best irrelevant and at worst harmful, apparently one in six of the mental health professionals surveyed in a recent poll in the UK said that they had 'helped at least one patient curtail their gay, lesbian or bisexual feelings' and one in 25 would try to 'treat' someone with homosexual 'emotions'.
That's a big percentage.
Maybe they are starting a trend. Maybe they will launch a pill.
I can see the adverts: 'Tired of being different? Now you can fit it with the jocks, the cheerleaders and the conservative Christian right! Yes you can. You can try lobotomy or our new revolutionary Straight Pill – available at pharmacies near you'.
No, I don't think this is funny either.
If licensed mental health professionals are trying to 'cure' sexual preference then it's a matter of time before an angry mob bearing pitchforks comes to my door and drags me away to be burnt at the stake for witchcraft – what with my opinions and the people I hang out with.
Professor Michael King, from University College London, denounced any such attempts to cure homosexuality as scientifically unfounded and potentially harmful. His statement was countered by someone who refused to be named (the KKK also wore hoods to conceal their faces) who claimed that many a gay person is unhappy with their sexuality and 'wish they were heterosexual' and thus deserve help.
Professor King of course puts this proposition on its head, noting that many people face prejudice against their sexuality both from society and from within themselves – because you can't shake your upbringing as easily as you'd like – and the mental health practitioner's job is to help the individual deal with and overcome this prejudice, wherever it comes from.
As I was saying, when 'natural' and 'normal' collide the socially-fabricated and collectively-upheld normality wins over nature every bloody time.
And so 'normality' is shoved down our throats, with a lab-coat and stethoscope screaming from afar 'when society and science converge, there is no use resisting'.
Now you may say, 1 in 25 practitioners being tempted to 'cure' homosexuality is not that bad, statistically speaking. But I really hope you won't say that. Because one is one too many.
Besides, if a few sessions of cognitive behavioural therapy are believed to cure homosexuality, it is a matter of time before we hear of pills for atheism, syrups for liberalism and an enema to cure trade unionism.
This is not the first time doctors help us to be 'normal'.
This is not the first time scientists opt for upholding 'normality' and corresponding relations of power and control.
'Normal' has by definition strenght in numbers. 'Normal' lives, by definition, in the mainstream. What was once done in Churches is now done through chat shows, socio-babble jargon, websites. But a witch-hunt is a witch-hunt even with a .com at the end of it. And this wouldn't be the first time the bad guys wore lab coats either.
And although the numbers are low (1 in 6 have done it, 1 in 25 would do it), the numbers are too high. And until the profession purges itself, there is a collective reponsibility no-one can deny. And until 'normal' aligns itself with 'natural', I will have cause to rant. This anger may be not be natural but, given the world I live in, let's face it: it's normal.